Download my CV 1 pager or full CV (last updated: September 2019).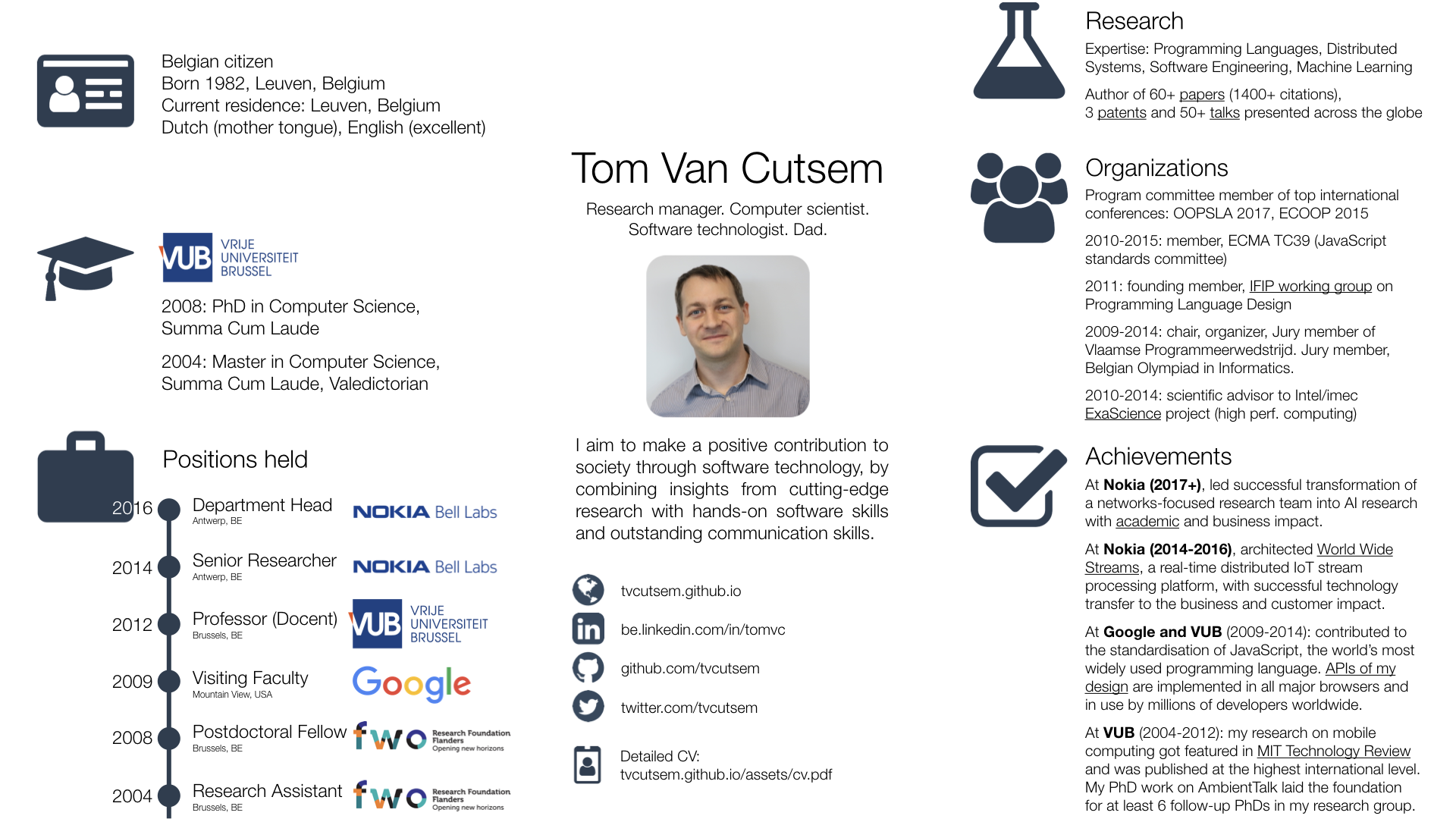 Quick Facts
Name: Tom Van Cutsem
Nationality: Belgian
Residence: Leuven, Belgium
Language proficiency: Dutch (Mother Tongue), English (Fluent)
Degree: PhD, Computer Science
Profession: R&D team leader, computer science researcher, software architect, software technologist
Past work that I am proud of
Skills
Soft Skills
Team leadership, delivering talks and technical pitches, coaching people, coordinating a development team (in an architect role). Excellent writing skills.
Technical Skills
Very strong software design and software engineering skills. Deep understanding of programming languages, compilers, virtual machines. Deep understanding of distributed systems. Hands-on experience with node.js, Cloud/AWS, Docker, RabbitMQ, MongoDB. Ask me about distributed systems concepts such as consistency, availability and partition-tolerance.
Good understanding of Machine learning and its possibilities (classification/regression, supervised/unsupervised) and pitfalls (bias, overfitting). I've wrangled data and trained models with Python.
I consider myself proficient (i.e. have written programs over 10K SLoC) in Java and JavaScript (node.js) but have used a wide variety of different languages and systems, including C/C++, Prolog, Python, Erlang, Clojure and Smalltalk. I pick up new languages easily.
Expert in object-oriented software development, design patterns, TDD/BDD. Also strong affinity with functional, relational and logic programming paradigms.
Expert in multi-user (concurrent) systems, distributed computing, parallel computing, peer-to-peer systems.
Good understanding of basic security principles, authentication, encryption/verification and key networking principles.